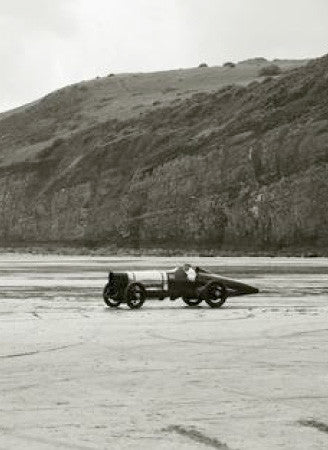 14 Mar 2016

Bluebird Car Flies Again at Pendine Sands

by Gary Burnand
Bluebird 1925-2015 from Nick Clements on Vimeo.
We are delighted that our friends from style bible Men's File magazine (Vol. 13) are currently featuring the return of Sir Malcolm Campbell's Bluebird Sunbeam to its' 150mph record breaking venue in Wales, 90 years after the record was achieved. Men's File is a "Modern Magazine tracing the Roots of Style", and Sir Malcolm, known as 'The King of Speed' also knew a thing or two about style.
Like a later icon, 'The King of Cool' Steve McQueen, Sir Malcolm always ensured that the camera caught him exuding effortless style. But, unlike Steve's more relaxed style, Sir Malcolm was usual found in the sharpest of double-breasted tweed jackets with matching plus eights…even for race engine preparation! For motor racing and record-breaking, he wore nothing but the finest Grenfell cloth racing suits. Grenfell had emerged in the Twenties, as the superior garb for gentlemen (and ladies) pushing the limits in all manner of daring pursuits.
It is in honour of Sir Malcolm, and his son Donald Campbell CBE, another great, heroic British speed merchant, that we have created a collection inspired by their restless endeavours. Both wore Grenfell clothing because it gave them the best combination of performance and style in life's most demanding conditions.