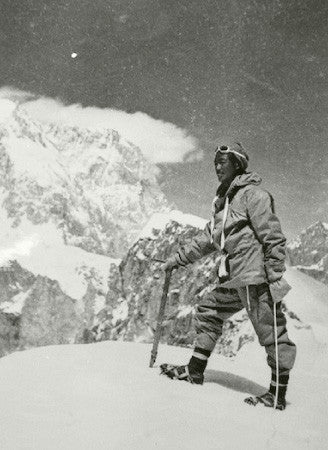 07 Oct 2015

The Mountain Jacket: True Action Style

by Mo Azam
While researching British creation, the St. Moritz Tobogganing Club, we recently came across the wonderful image above. It conjured up the pure spirit of the Cresta Run in Switzerland. Here, gents and occasionally ladies would pit themselves on the natural ice skeleton racing toboggan track. Like human bullets, they'd race down the run hoping to make it out of the end of the barrel in one piece. Finishing the course in a competitive time would render the envy of their chums.
Since 1884, this human challenge has attracted the bold and the brave including a few daring stars too. At this luxurious and picturesque location, a 007-like Gregory Peck is spotted complete with a glamourous entourage. Famed for not only his devastating looks but his proper action star status — remember him in epic film 'The Guns of Navarone'?
Topping this off, he was wearing the most action piece of outerwear at the time — the Grenfell Mountain Jacket. The very styled jacket graced many an expedition across the High Alps and ultimately the Himalayas. More research is required to get the full back-story on this one.