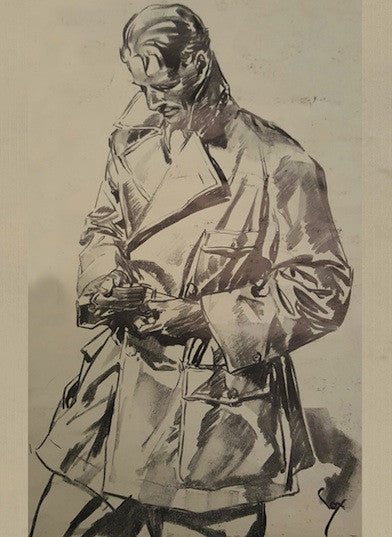 01 Dec 2015

The Shooter Jacket: Military Splendour

by Gary Burnand
Military wear is one of a handful of origins that menswear style evolves from. The benefits of war are limited at best. However, it has led to surprising innovations that have endured on fashionable civvy street, most notably the trench coat.
Equally, the field jacket was a major evolution in the delivery of functional kit. It had a powerful fit-for-purpose nature. Designed to fit the body with a great ability largely through pocketing and structure to carry large amounts of necessities.
Drawing influence from the field jacket are Grenfell shooting jackets. They were the choice of high society sportsmen for over four decades from the 1940s as Grenfell Cloth transitioned from the Himalayas to the grouse moors. True to the original in our archive, this our current classic fit Shooter is belted with three external pockets and an internal waterproof game pocket. Those features make this the ultimate travel jacket of the moment. It's perfect for transitioning from one zone to another, through airports and yet maintaining easy, organised access to your precious essentials.  
Photography: Jake Eastham